Schäffer launches an extremely compact loader, the 1622 – the first unit from the new Schäffer 1000 series of multi-purpose machines. Multifunctionality has long been the forte of all Schäffer loaders, and the 1622 takes it to another level.
Stand-out features of this new loader are the compact size, powerful hydraulics and a large choice of attachments, which combine to make the loader a versatile all-rounder on farmyards and in daily operations that were done manually in the past.
The design and manufacture of machines that carry out jobs quickly and more efficiently has formed an integral part of Schäffer's philosophy since the company was founded. As the most compact loader Schäffer has ever built, the 1622 marks the latest milestone in its history. Its operating weight is 1,250kg, its overall length including bucket is just 3.05m and widths start at 89cm. These dimensions make the machine exceptionally agile and ideal for confined spaces. With its low operating weight, it won't damage surfaces and can be transported on car-drawn trailers; and its low 1.99m build height allows it to pass under low doorways and gateways.
The 16.2kW/22hp Kubota engine is a Stage V engine with no need for an emission treatment system. Its drive benefits from proportional hydrostatic drive pedal to accelerate to 16km/h. The lifting arm tapers towards the top to provide the operator with a clear view of the attachment. Lifting loads of up to 810kg, the multifunction loader raises cargo to a height of 2.23m. Its standard hydraulic pump delivers an oil flow of 28l/min to the attachments whereas the optional Schäffer Multi-High-Flow (MHF) pump supplies 40l/min – enough to operate attachments such as flail mowers or brooms that require high oil flows.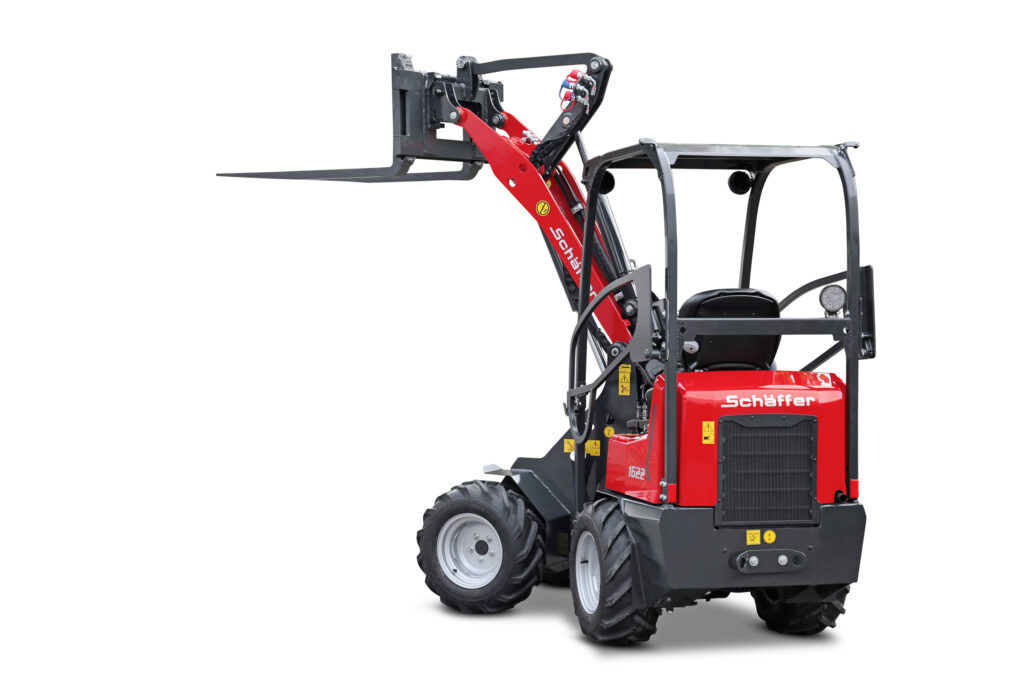 The new Schäffer 1622 multi-function loader is the first model in the new 1000 series line-up. Compact dimensions, powerful hydraulics and a large choice of attachments make this machine exceptionally versatile.