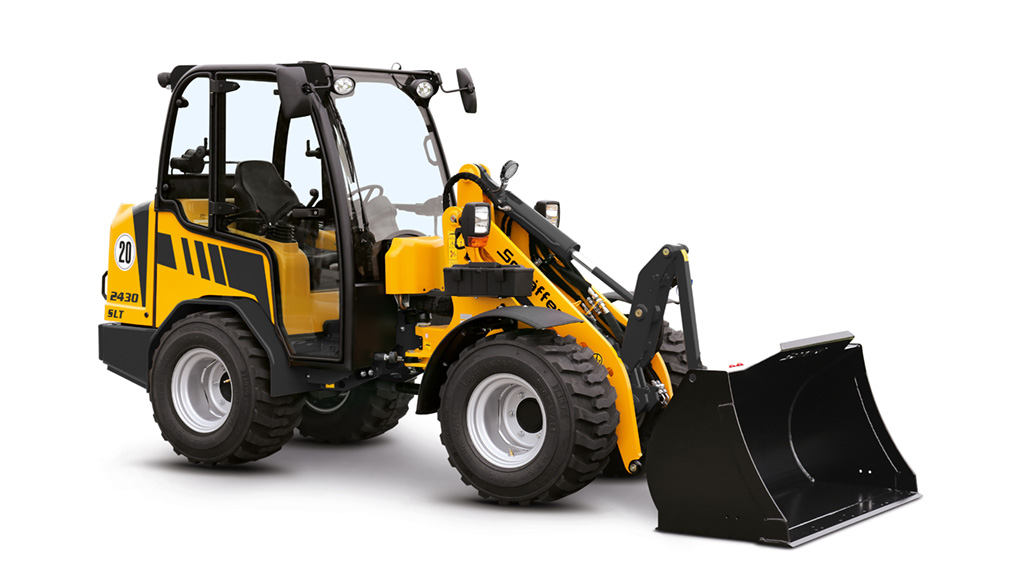 Les chargeuses compactes prennent de plus en plus d'importance dans l'aménagement paysager et les espaces verts, dans le génie civil comme dans les services techniques des collectivités locales. L'espace de manœuvre devenant toujours plus limité sur les chantiers, l'utilisation de machines aussi maniables et compactes que possible mais cependant aptes à déplacer de lourdes charges devient une nécessité majeure. Avec sa 2430 SLT, Schäffer propose une nouvelle et puissante chargeuse sur pneus qui répond à cette exigence.
Superseding the extremely successful 2445 SLT, the Schäffer 2430 SLT is as an enormously versatile and efficient compact wheeled loader that offers an operating weight of 2.4 – 2.6 tonnes depending on specification. This said, the light-weight machine handles pallets of paving stones weighing up to 1.7 tonnes. Another advantage is the ease of transport from one construction site to the next, because all it takes is a regular trailer for private cars. Thanks to its compact dimensions – 1.02m minimum width and 1.95m minimum height – the machine passes through low gates and easily manoeuvres in underground car parks. Operator access is easy thanks to the relatively low position of the seat.
The loader is powered by an 18.5kW (25hp), 1.7l Kubota engine: one of the highest-torque engines in this power bracket. The diesel-fuelled, low-emission unit does not require emission treatment. The standard-fit high-pressure transmission accelerates the agile artic loader rapidly to 20km/h and develops a dependably high thrust. The automatic High Traction Force (HTF) thrust control eliminates the need for downshifting to get the maximum thrust, boosting your work rates and providing the maximum thrust also in range 2. The transmission is controlled electronically by the Schäffer Power Transmission (SPT) which pairs the hydraulic drive with the torque characteristics of the engine and translates into a substantially higher performance as efficiency and fuel economy increase.
Offering a lift height of 2.50m, the machine fills and empties even high-sided trailers without any problem. Available with roof or cab, it is ready for the outdoors in any season. The original Schäffer axles for wheeled loaders are extremely durable and have maintenance-free and wear-resistant multi-disk brakes. Another standard feature is the maintenance-free oscillating mid-pivot joint for which Schäffer offers an extended factory guarantee of 3,000 hours or three years.